---
PAP003 KING DUBEAR – FROM THE BEAR'S DEN CHAPTER ONE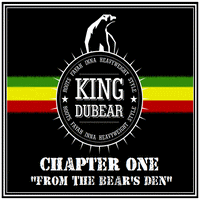 To dopiero początek 2010 roku, a Paproota Dub Netlabel przygotowała dla Was kolejne wydawnictwo. Tym razem jest to składająca się z 6 utworów EP ostródzkiego dubheada King Dubear. "From The Bear's Den – Chapter One" to kompozycje mocno osadzone w stylu digital dub/steppers. Wynika to z zamiłowania autora do takich artystów jak Jah Shaka, Iration Steppas czy Aba Shanti I, jednak wyróżniają te produkcje partie syntezatorowe.
DOWNLOAD PAP_003 King Dubear – From The Bears Den Chapter One(EP)
(.rar file, mp3 high quality 256 kbps, 51,8 MB)



FROM THE BEAR'S DEN – CHAPTER ONE (EP)

by KING DUB BEAR is licensed under a Creative Commons.